TestTracker Data Management Software is a test lab management tool for managers, product engineers and test engineers who rely on efficient and accurate testing in R&D. It manages and prioritizes incoming requests, assigns tests, delegates those tests to the appropriate testers, collects streamlined data, and sends results to the necessary stakeholders -- all from a central location.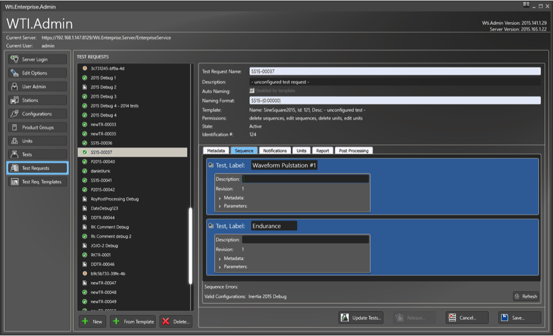 The software also integrates configuration management for both test sequences and test data to ensure traceability. With an automated system, test lab managers get the most efficient use of their testers and R&D engineers get quicker, more accurate results.
TestTracker Data Management Software provides a dashboard where lab managers can see all tests in the lab and assess efficiencies or uptime. With a similar dashboard, product engineers can track a particular test and review results. The system posts data to a server, where users can access all data and search for previous tests or results.
TestTracker test system management software allows users to combine multiple pieces of test software into a single software platform where test engineers can perform the following functions:
Defining the test stations and controlling the configurations
Developing test profiles, test requests, and test request templates
Managing product groupings by defining which tests can be run
Monitoring which units are at each test station
Importing test files and controlling which configurations are run
Assigning values to test parameters, defining metadata, and linking postprocessing scripts
Creating test sequences for the units to test, post-processing scripts, and email notifications
Providing test request status reports, data reports, unit status summaries, and network access to all raw data files and results
Viewing Web-accessible dashboards with pertinent test cell data such as test time remaining, uptime, downtime, efficiency, and various other userdefinable data