The Challenge
Testing a unique, specifically-designed actuator for classified naval application.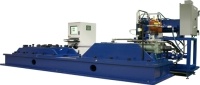 Background
Actuators can be of many types including hydraulic, pneumatic, piezoelectric, and electro-mechanical and are used in a variety of applications, each having their unique place depending on the specific requirements. However, in all cases, manufacturers of linear actuators need to validate the performance of the actuator against the conditions that they will see in actual use. Most commonly, this will include efficiency of the actuator; position and load control through the full stroke of the actuator and include both minimum and maximum velocities, typically in terms of or inches per second. Genuen (formerly WTI) has created a number of linear actuator test stands for a wide range of applications and performance requirements.
The Solution
Using Genuen's INERTIATM software and National Instruments PXI hardware to develop a custom servo-hydraulic loading system capable of providing forces in excess of 120,000 lbF at rates as high as 2 in/sec of travel to test the actuator position, load, and cylinder port pressures.
"We are constantly developing specialized equipment, sensors, actuators, and electronics for high-technology systems, and this real-time control system gave us the flexibility and customization we needed to test a very unique actuator with very unique requirements. WTI delivered a complex system that exceeded our requirements on budget and on time."

– Michael Condon, General Atomic
This particular application was for a large actuator that weighed in excess of 3 tons and has a maximum force of 120k lbf, a stroke of 36", and a rate of travel of 2 IPS. In order to provide a sufficiently rigid structure, a 180" welded steel fixture designed for loads up to 150 kips and verified using finite element analysis (FEA) was provided to support both the test article and the loading actuator. The supplied 3000 psi hydraulic power unit (HPU) drove the 10" bore 5" rod cylinder and provided approximately 175k lbf in the retract direction and sufficient flow to meet the 2 IPS advancing. The system also included a load cell mounted on the actuator end for force control and a linear displacement transducer for position control. The entire test stand was controlled by our INERTIA data acquisition and control platform, providing an intuitive environment for test profile generation, alarms, user interface, and data acquisition.
Ready to Get Started?
---
Learn more about our products or request a consultation with an experienced engineer.