The Challenge
Simultaneously testing up to four active suspension electronic control units (ECUs) using a mix of real hardware components, control software, and simulated models.
Background
Cutting-edge technology is constantly being introduced in the automotive industry, and it can be challenging to not only design but also test groundbreaking innovations. One of our clients designs high-end active suspension ECUs for luxury vehicles. One ECU was located in each corner of the car, and it had the ability to communicate with the other three ECUs and various sensors in the vehicle. The customer needed to test the ECU software to ensure the appropriate decisions were being made based on the available information – not just data from a single ECU and the sensors closest to it, but also simultaneous communications from all four ECUs.

Because the technology they were implementing was so revolutionary, the client opted not to use a typical closed box tester because of the difficulty and cost associated with adding future functionality. They wanted an open, COTS-based test platform where they could take ownership of the system and customize it themselves as often as needed to get to market faster. The customer originally approached Genuen (formerly WTI) for a separate project involving dynamometer test cells. However, they quickly discovered we are also experienced integrators for HIL applications and have the ability to combine the two systems for integrated testing.
The Solution
Creating an open, flexible HIL test system based on the NI technology platform that's capable of simulating ECUs and sensor data, as well as integrating with dynamometer test cells.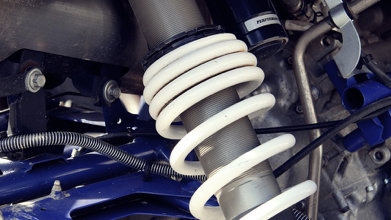 The automotive client needed a customizable, high-performance HIL system capable of testing a complex active suspension system using four synchronized ECUs.
Integrating HIL and Physical Test for ECUs
We worked closely with the client to deliver a full-height HIL system that simulated all the necessary vehicle sensors. The HIL system was based on the Automotive HIL Reference Design Genuen collaboratively created with Cummins and National Instruments (NI), and therefore incorporated platform-based technology such as modular PXI hardware, TestStand and VeriStand test software, and a third-party mass interconnect.
If only one ECU was available, the tester was capable of modeling the other three. If no ECU boards were ready, then the system could use HIL models to simulate all four ECUs against real or simulated sensor data. This full software-in-the-loop (SIL) scenario allowed the developers to test the ECU software earlier in the design process, as well as perform software regression testing to fine tune any modifications to the code.
Another advantage of building a simulation system on an open platform is the ability to integrate it with physical test like dynamometer test cells. Since simulation allows you to test the functional and behavioral capabilities of your product before it's built, the designers making physical components can test their parts using the HIL models before the ECU is even complete. Decoupling dependencies between groups allows individual teams to test their component when ready, instead of having to wait until another team's part is complete. This parallel product development and ability to test earlier in the design cycle significantly speeds up time-to-market and reduces risk of finding design flaws late in the game.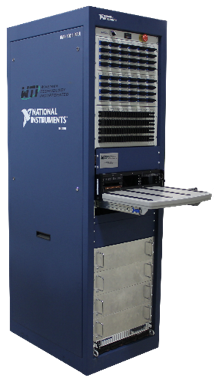 Based on the NI technology platform, this open, flexible HIL test system is capable of simulating ECUs and sensor data, as well as integrating with dynamometer test cells.
Collaboratively Designing a Full-Height HIL Tester
The HIL project was very collaborative, even throughout the quoting and system design process, since the customer wanted to take complete ownership of the tester after deployment and have the ability to fully customize its functionality as needed to adapt to future needs. They were very pleased with Genuen's ability to seamlessly join with their engineering team and share our years of engineering test expertise.
Also, the client was not familiar with NI technology previously, but we were able to quickly bring their team up to speed using the abundant NI training resources. As experienced Python programmers, they benefited from NI software's compatibility with Python, allowing them to use TestStand to call in Python code for greater flexibility and automation.
In the end, Genuen delivered a full-height HIL tester that not only modeled multiple ECUs and sensors, but also provided valuable data about how their overall active suspension system worked. The integrated testing allowed them to make intelligent decisions earlier in the development cycle and build a more robust product to deliver to customers.
Related Links:
Ford Deploys Fuel Cell Test System Using INERTIATM Software
Electric Parking Brake HIL and Durability Testing Using CANalytics Software
Ready to Get Started?
---
Learn more about our products or request a consultation with an experienced engineer.