Application: Electromechanical Testing
The Challenge
Simulating 12V and 48V lithium-ion starter batteries in various test scenarios to evaluate and improve BMS software.
Background
A123 Systems is a global manufacturer and supplier of lithium-ion energy storage solutions, and they offer 12V and 48V lithium-ion starter batteries as a drop-in replacement for traditional lead-acid car batteries used in combustion vehicles. The A123 Systems internal team was already familiar with National Instruments (NI) technology because of its open, customizable platform and prevalent usage in the test and measurement industry. They turned to Genuen (formerly WTI), an NI HIL Specialty Alliance Partner with more than 25 years of experience, because we specialize in making cutting-edge HIL solutions that adapt to ever-changing requirements, increase quality and safety, and decrease time to market.
The Solution
Delivering four, full-height hardware-in-the-loop (HIL) systems capable of testing different BMS module types and adapting to future changes in test requirements.
A123 Systems offer 12V and 48V lithium-ion starter batteries as a drop-in replacement for traditional lead-acid car batteries used in combustion vehicles. These new starter batteries deliver superior cold-cranking power, improved life-cycle, and a higher-charge acceptance to maximize engine off-time.
A starter battery consists of multiple rechargeable lithium-ion cells connected together as a single battery pack and controlled by a BMS. The BMS is responsible for:
Monitoring the status and health of the stack

Providing the appropriate 12V or 48V outputs

Preventing the pack from operating in unsafe states

Recharging the batteries

Communicating with other vehicle subsystems via CAN and LIN protocols
A123 Systems wanted four HIL testers – two new stands and two stands retrofitted from existing equipment – capable of simulating the lithium-ion batteries while they evaluated and improved different firmware on the BMS modules. By modeling a variety of inputs from the vehicle battery pack, the software could be thoroughly tested for meeting the expected criteria.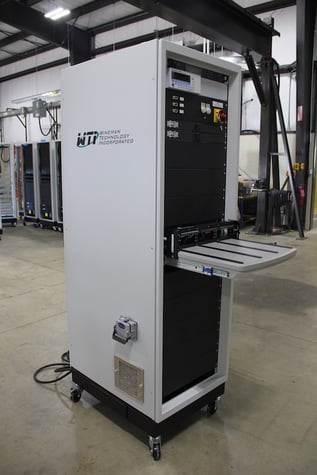 A123 Systems needed four full-height HIL systems to model various behaviors from the vehicle battery pack in order to measure proper responses from the BMS software.

Testing BMS Software with HIL Simulation
These four, full-height HIL test systems were based on the Automotive HIL Reference Design that Genuen collaboratively created with Cummins and NI, and therefore incorporated platform-based technology such as modular PXI hardware, NI TestStand and NI VeriStand test software, and a third-party mass interconnect panel. In order to easily connect the BMS module to the mass interconnect, we developed 12V and 48V interface transition adapters (ITAs), as well as a universal ITA to switch between them. We also integrated an off-the-shelf battery cell simulator to simulate the different cell voltages. This hardware subsystem is capable of adjusting the cell voltages between 3V to 5V, simulating a dead cell, and running other test scenarios to ensure that the BMS is properly managing the entire stack.
We chose a real-time PXI controller solution because of the tester's high performance, deterministic timing, and large sensor count requirements. We used VeriStand test application software to configure and control the hardware, and TestStand test management software to develop test profiles and sequences that automate the VeriStand software. The system utilizes CAN communication via VeriStand to retrieve information from the BMS and monitor the cell levels. The CAN data then confirms whether or not the BMS is maintaining safe battery states and correctly reading the necessary measurements.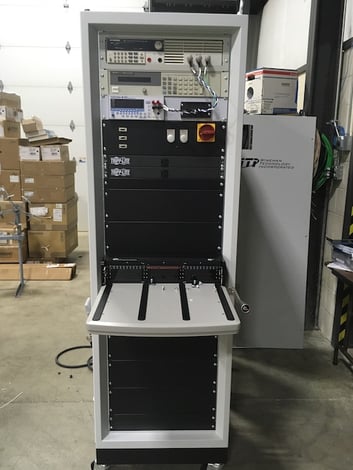 Each HIL tester was built on NI's commercial off-the-shelf hardware and software platform, with custom IPAs to switch between numerous BMS units.

Saving Time with Open, Flexible Technology
A123 Systems was satisfied with the new HIL systems that have the flexibility to quickly change between testing a 12V or 48V starter battery BMS. The non-proprietary software automates the testing process and can easily adapt to changes in the testing requirements (since the end user has the ability to edit the test flow as needed). They also appreciated the quality of the final solution and beneficial features that protect the safety of the operators.
When it comes to completing project objectives, Genuen seamlessly collaborates with both internal staff and outside contractors. For this application, we worked with A123 Systems' design team on the electrical design of the cabinet. Once the system was delivered, we also offered engineering services to help the software team automate the HIL system, thus expanding the group's overall bandwidth and capabilities.
Increasing Efficiency with Our Engineering Services
A123 Systems originally ordered two new HIL systems and two retrofitted systems for testing and refining BMS firmware. After we successfully delivered the first two testers, they were pleased with the installations and expanded their order to include a fifth system.
Genuen has a proven record of delivering high-performance, turnkey HIL solutions for the automotive, aerospace, and other industries. Not only does our electro-mechanical team design and build HIL testers, but our software engineering team also helps implement automation of the test system – both during startup and afterwards. Test requirements inevitably evolve over time, but instead of keeping that expertise in-house to address those occasional changes, many of our clients find it easier to partner with us to make adjustments as needed.
Ready to Get Started?
---
Learn more about our products or request a consultation with an experienced engineer.