The Challenge
To provide two Winch Control Systems to test the performance and durability of various sizes of winch assemblies in both automatic and manual modes. The systems needed to be manufactured for the testing of a wide range of products, designed for an external environment, and configured for future relocation to an interior environment.
Background
Genuen (formerly WTI) partnered with a leading manufacturer, who specializes in a wide range of winches and winch control products, for a solution to their testing requirements. As a supplier to the fishing/marine, crane, utility, oilfield, offshore, and many other industries, they required a flexible testing method to meet the constantly evolving performance and durability test requirements for an increasing number of products.
The Solution
Develop two custom hydraulic power unit (HPU) and control skids, a control room master control, two separate operator interfaces, and the associated data acquisition system (DAQ).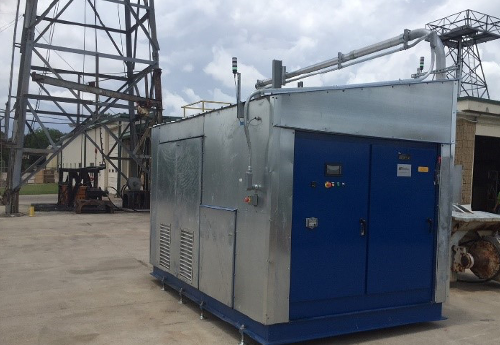 Figure 1. One of two hydraulic system assemblies, each measuring 98" wide x 160" deep x 100" high, designed for exterior usage
The system included the following basic requirements:
A variable hydraulic power source to operate the Unit Under Test (UUT) to 80 gpm @ 4,500 psi

A joystick-control interface to allow the operator to raise and lower the load manually

An automatic mode to operate the UUT for an extended number of cycles

A data acquisition system for UUT operational and failure mode analysis

A system design which would allow for the HPUs to be temporarily located outside next to the test towers and then moved inside for future operation
The HPU Skids
The hydraulic control skids were configured with a removable exterior stainless steel "skin" and support frame assembly. This would protect the control devices from the weather for the first year of use. Later, when the skids were to be relocated to an interior location, the skin and supporting frame assembly could be removed allowing easier maintenance access. In addition, the skids were to be supplied with an air/oil heat exchanger system, which could be replaced with a water/oil system once moved inside.
Each skid featured:
Main hydraulic pumps that incorporated hyperbolic characteristic curves (load sensing) to provide utilization of available motor input horsepower

Soft-start motor starters for reduced inrush current transients

Separate hydraulic flushing, pilot, and charge supply controls to the UUT

Closed-loop, proportional UUT inlet flows and pressures

A plug-and-play UUT connection interface for both hydraulic and electrical connections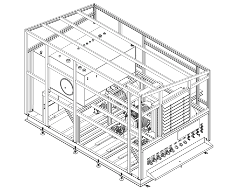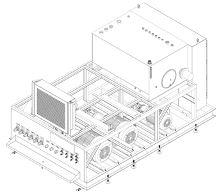 Figure 2. The hydraulic system assembly with the "skin" removed and configured for internal testing
The Skid Control System
Each skid featured an onboard PLC for autonomous test rig control as well as a DAQ system with local, remote, manual, and automated modes.
An "All in One" PLC/HMI provided the customer with an open access program (freeware software approach), and a light pole was added for visibility from the control room in the adjacent building. The PLC was configured to provide pump control, monitor all system functions, closed loop control of the system temperature, and fault monitoring/indication.
The system was also configured with easy-to-use UUT interfaces like hydraulic quick connection fittings and electrical MIL-type connectors. This allowed the operator the connection flexibility required for a wide range of UUTs and their option packages.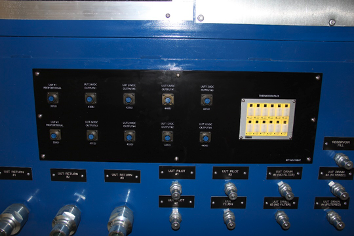 Figure 3. The system's hydraulic and control signal connections allow for a wide range of UUT types and test configurations.
The Master Control System
Located in the adjacent building's control room, the system master control/DAQ system featured National Instruments VeriStand along with the Genuen INERTIATM Add-On for system remote control and data acquisition.
The system consisted of:
VeriStand Host Computer – Located in main electrical enclosure. Real-Time OS CompactRIO industrial computer.

VeriStand Client Computer – Located at operator station. Microsoft Windows OS desktop computer (provided by the customer for internal corporate IT security purposes)

Combined control and logging for both test systems into a single DAQ system

Preconfigured automated test sequences

Definable system alarms for load control out-of-tolerance, overcurrent, load, speed, temperature, pressures, and more

A custom test interface for user-input data

Data logging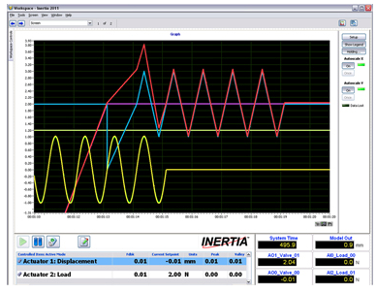 Figure 4: A typical actuator displacement and load monitoring display.

In addition, each operator station included joystick interfaces, which allowed for the manual raise/lower positioning of the load, operation of the auxiliary controls, and a potentiometer to dial-in the overall winch test speed.
Summary
The flexibility of these systems provided our customer with the capability of testing past products, service returns, and the ever-changing market of upcoming designs. Their past testing had been completely accomplished through the operator's manipulation of the joystick, while remotely viewing the test from the control-lab window. This used to require a technician to be present and to manually operate all tests over an eight-hour day. Today, the addition of test automation has freed up technicians for other duties and allows 24/7 testing without operator intervention.
In the end, Genuen delivered flexible test systems that provide our customer with valuable product data, which enables them to make intelligent decisions earlier in the development cycle to deliver a more robust product to their customers.
Ready to Get Started?
---
Learn more about our products or request a consultation with an experienced engineer.