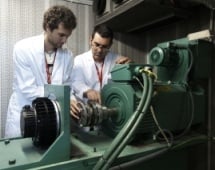 The move toward increased fuel efficiency and reduced emissions has led the automotive industry to develop alternative solutions, such as fuel cell, plug-in electric vehicles (PEV) and hybrid electric vehicles (HEV). These energy efficient powertrain systems have significantly increased the complexity of the vehicle and caused cost and delivery pressure within the development and validation process.
Just as the ground transportation market is evolving, Genuen keeps up to date with the latest automotive technology to provide test solutions that reduce new product development time while increasing quality and reliability. Our state-of-the-art tools aid in the design of the green powertrain systems to optimize vehicle performance, energy usage, total cost, and other variables.
Get the NIWeek Presentation: "Electric Vehicle Simulation Techniques for Testing and Validation" to learn how the design, validation and optimization of hybrid and electric vehicles are facilitated by new multi-domain modeling tools, presented by Matthew Eurich, Genuen President.
With years of experience in automotive test, we provide cutting-edge products and systems for modeling, simulating, evaluating, and assembling virtually any vehicle component, including electrical sub-systems such as the energy storage system, power invertors, and control systems. With hundreds of systems deployed around the world, our customers include major automotive manufacturers in the Americas, Asia and Europe.
For more information, contact a Genuen representative.
Related Links:
Electric Hybrid Dynamometer
Hydraulic Hybrid Transmission Test Stand
Ready to Get Started?
---
Learn more about our products or request a consultation with an experienced engineer.