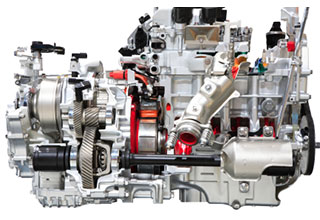 When coupled with our INERTIATM test automation software, our engine dynos allow virtually any engine configuration to be tested along with all support systems, suchas emissions, blow-by, fuel, and cooling system. Our systems also allow model-based control for complete vehicle and environment simulation within the test cell.
Genuen's engine dynamometers feature:
Complete vehicle and environment simulation, including vehicle inertia, shifting, braking, windage, and terrain

Real-time, model-based control and standard PID control capabilities

Integrated engine test cell automation, engine control, dynamometer control, and data acquisition

Full road-load profile simulation along with standard torque and speed control

Integrated transmission fluid conditioning control

Integrated engine fuel conditioning control

Integrated engine cooling and intercooler systems with heat rejection measurement

Integration with numerous loading devices, including eddy current absorbers, AC/DC motors, water brakes, and friction brakes

CAN and LIN bus support for control and monitoring with custom communication busses available

Integrated high-speed data acquisition, data logging, alarming, and calculations

Intuitive and flexible INERTIA test automation software and GUI
What is a Dynamometer?
The fundamentals of dynamometer systems. Learn about the different types, control system considerations, and common measurements.
Ready to Get Started?
---
Learn more about our products or request a consultation with an experienced engineer.