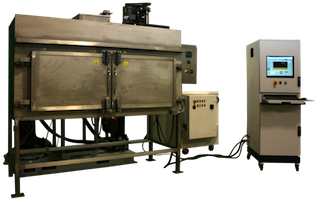 Genuen builds top-of-the-line impulse test rigs for life cycle durability testing of hydraulic equipment and components in the aerospace, defense, industrial, and off-highway industries. Our expertise in embedded real-time control applications makes it possible to create impulse test stands with higher frequencies and pulse profiles with greater accuracy than other integrators.
As an experienced, complete in-house mechanical and electrical design firm, we create reliable, accurate testers using off-the-shelf products whenever possible for easy replacement. The software applications – such as the intuitive operator interface, in-depth test profile editor, and calibration utility – are built on mature technology with long-term availability. No matter what type of waveform test profile you need, standard or custom, our engineering staff can create it.
Specifications and Capabilities
Impulse Pressure Range: 1000 to 8000 PSIG (70 to 550 BAR)
Test Frequency: < 15 Hz
Types of Waveforms: ARP 1383 sinusoidal, damped, and alternated damped waveforms, along with custom waveforms of up to 20 points
Pressure Increase Rate: up to 200,000 PSI/sec
Capacity: up to 250 in3
Compliance with Standards: SAE AIR 1228A, ARP 1383B, ARP 4378B, and AS33514
Example Projects
Pressure Pulsation Tester


This turnkey impulse tester is capable of performing on/off style of impulse testing which is typical of NFPA/T2.6.1 R2-2001 (R2009). The main deliverables included:

68 LPM 600 BAR hydraulic power unit

High pressure hydraulic valve manifold with multiple high pressure solenoid valves and manually adjustable valves for test pressure and ramp rate

RAPID controller

with impulse tester add-on

Desktop computer with operator interface application providing an automatic test screen with a pre-configured pressure cycle and manual control screen for pressure on/off time

Test enclosure to withstand and contain high pressure hydraulic fluid spray




Aerospace ARP 1383B Hydrualic Impulse Tester
This hydraulic impulse tester is designed for testing parts of volumes up to 137 in3 at pressures up to 7,500 PSIG utilizing MIL-PRF-83282 fluid. The project included:

Software application programmed with our

INERTIATM test automation software,

allowing for automated testing, manual control, calibration, and the ability for the end user to reconfigure the waveform or test profile for new requirements

Electrical control system with controller, I/O, signal conditioning, and power distribution

High temperature chamber with 70°C to 275°C temperature range

40 gpm, 3000 psi hydraulic power unit and impulse test circuit based on SAE AIR 1228A
Related Links:
White Paper: Challenges and Best Practices for Implementing a Test Cell Control System
Ready to Get Started?
---
Learn more about our products or request a consultation with an experienced engineer.