There a few tests more exciting to witness then validation testing of landing gear. The sound of a spinning wheel hitting the tarmac with tens of thousand pounds of force demands attention and the test systems demand attention to detail.
Genuen has experience designing custom landing gear test systems for both components as well as complete landing gear. Our experience ranges from full scale drop testers (for small to mid-size aerospace vehicles) to complex component test systems like inertia dynamometers for brake component testing. Depending on the system it may consist of electric/hydraulic loading systems or a drop test with inertia mass loaded on a sled. Data acquisition and sensors can vary from a few channels to 100's of channels collected at high speeds. These systems are highly customized to meet your exact needs.
Learn more about the TFM Landing Gear Controller.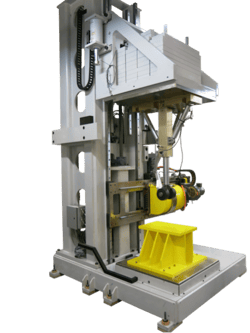 Ready to Get Started?
---
Learn more about our products or request a consultation with an experienced engineer.