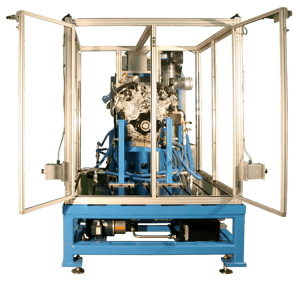 In the quest for optimized performance, fuel economy improvements, and reduced emissions, automotive companies are investing in variable valve timing (VVT) technology for internal combustion engines. With proven experience deploying flexible, state-of-the-art VVT test stands, Genuen is your go-to test system integrator for automotive, transportation, and other engine markets.
Cost-Effective VVT Testers Using Commercial Technology
Tier 1 manufacturers and suppliers of automotive components turn to Genuen because:
We have the proven expertise to create variable valve control and variable cam phasing solutions that meets your exact engineering needs with flexibility for future development
We use commercial off-the-shelf (COTS) technology for faster design and deployment, flexible configuration, and easy repair and maintenance

Our

INERTIATM real-time test and control software

is incredibly powerful and flexible, giving you the ability to make changes on the fly and easily program tests on your own. It allows customers to take field testing data and reproduce the results in a controlled environment.
Past Projects for VVT Testing
VVT systems are often developed in parallel with other components. At Genuen, we build test stands that can control phase angles, oil and pressure valves, and motors to evaluate cam-phasing systems even before the engine or ECU design has been completed.
VVT Performance Testing


Using different engine speeds and system oil pressures, the VVT system is evaluated for parameters such as response time when moving between two phase angles. By measuring the system's response to the engine's dynamics, resonance and harmonics, the effect on the system's entire performance can be characterized.




VVT Endurance Testing


These testers run the VVT system for long periods of time at varying speeds and phase angles to simulate long-term wear and tear. Higher oil temperatures and dirty oil are often used to intentionally increase the wear on the system.




Cam Phase Testing


Our test stands can monitor the phase angle between the cam shaft and crank shaft using the engine sensors or external encoders.




Head-Only VVT Testing


For R&D prototypes, our tester can physically drive the engine's crank shaft without fuel to test the cam phasers before the engine is fully designed. We also build spin stands that can run different engine heads without the actual engine by using a universal mounting setup to test different phasers.



At Genuen, we have decades of experience creating highly configurable test rigs, including dynamometers, pumps, hydraulics, and other unique data acquisition and control applications.
For more information, download the Top 3 Considerations for Building a Variable Valve Timing Test Stand white paper, or talk to an experienced engineer today to find out how we can collaborate together to make your VVT test system a reality.
Ready to Get Started?
---
Learn more about our products or request a consultation with an experienced engineer.