Download White Paper
---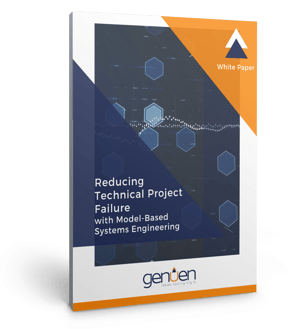 Executing a successful technical project is an immense challenge. Many experienced professionals intuitively believe that most projects fail. In a 2017 survey by KMPG, this intuition was finally confirmed and backed up by data. The study found that 70% of all projects fail, and that technology projects fail at an even higher rate.
How do you reduce technical project failure?
Model-based systems engineering (MBSE) is the application of modeling and model engineering in support of technical project systems engineering. Implementing MBSE early in the product lifecycle improves communication among project stakeholders (both technical and non-technical) and helps to elicit project requirements. In this white paper, we'll outline two powerful methodologies to help you reduce your rate of project failure:
Unified Modeling Language (UML)
Model Engineering (ME)
Complete the form to download the white paper.