Contributed By Morgan Norris, Sr. Brand Strategist, TREW Marketing
Recently, CertTech, an expert in test solutions for mission-critical and safety applications acquired WTI (formerly Wineman Technology, Inc.), a leader in custom test system development, to further enhance end-to-end test and real-time simulation capabilities for clients worldwide.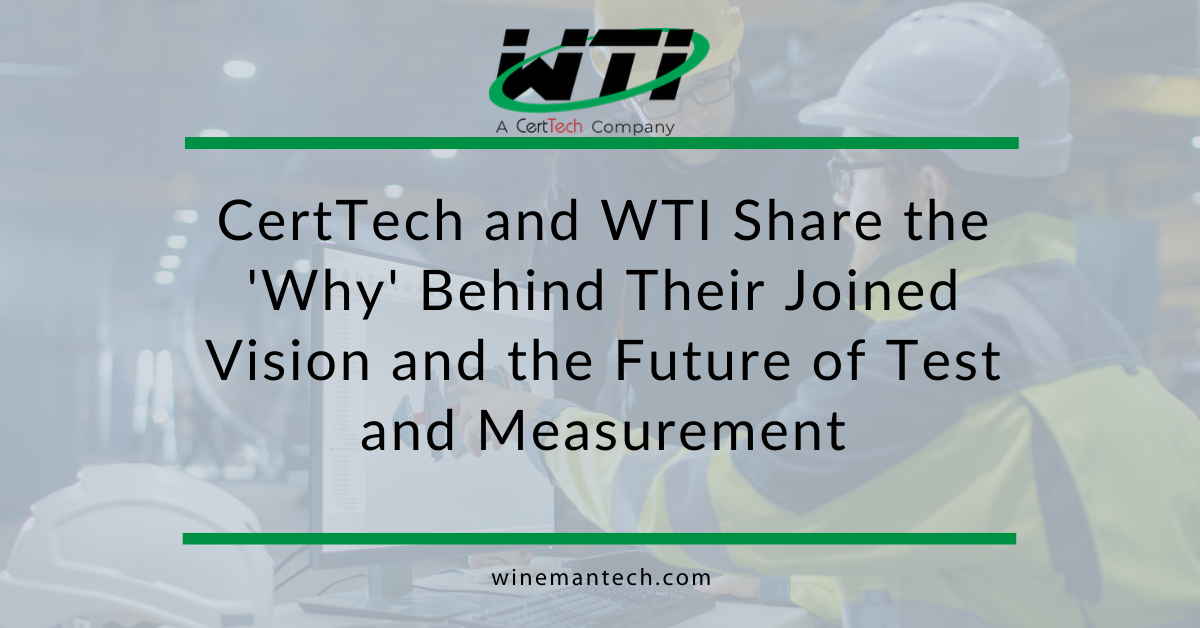 Last week, I spent an afternoon with the leaders of CertTech and WTI, Jeff Gray and Matt Eurich, to understand details behind the acquisition and what's next for the now-combined test systems integrators and their clients.
I started by asking how their businesses overlap and what tensions an acquisition might create, either internally or with customers or partners. What became clear from our conversation, however, is that these companies have gone into this already very familiar with each other. In the past, they've not so much competed for clients but rather passed projects to one another – WTI's teams working on hardware-in-the-loop simulation and handing off to CertTech for software and certification, for example. This sense of cooperation was immediately evident in the interview; these two execs are amiable, have great respect and admiration for each other's businesses, and are genuinely excited for their future together.
"We've never competitively run into each other in 20 years," said Gray. "We have different specialties that stitch together nicely, piece by piece."
And they believe they're better together. The two transparently disclosed that the WTI leadership team transferred their ownership in the former company directly to CertTech, with four WTI leaders now stockholders in the new company – both the offer of shared ownership by CertTech and its acceptance by WTI display mutual trust and confidence in the new business.
Read on for the key takeaways from the interview:
Looking to Grow
Gray shared that CertTech has been looking to grow through acquisitions for about two years now. It's clear that they want to offer expanded services and solutions to customers.
"This has been a long time coming," said Gray. "We've been looking for complementary skills – skills that would help our customers by making their lives easier and their systems stronger. There are opportunities where we're sitting at the same table as WTI – we're working on software testing and they're handling the hardware. Joining together benefits most all of our customers because we'll be able to offer more comprehensive solutions, quicker."
WTI had similarly been looking to join with another systems integrator that could extend their inherent hardware capabilities and help them service test throughout the entire product lifecycle. Partnering with an adjacent company would allow them to take more risks, too, to help the next wave of automotive, aerospace, and medical initiatives get to market faster.
Expanded Resources Bring Expanded Capabilities for High-Stakes Industries
Both companies currently work with aerospace and defense, automotive/transportation, and medical industries.
"Our full intent is to remain experts in the industries where we're already involved, but offer more comprehensive solutions," said Eurich. "These are the industries where technology is rapidly evolving, and as a result, companies are looking to get to market fast, but also protect their brands and customers with products that have been rigorously tested for safety and reliability. With the acquisition, we become an end-to-end solution for test."
Both companies work in these highly regulated industries because the methods for building safe and reliable technology is similar across all of them.
"The recipe for how you build safe and reliable systems is similar across all of the industries where we work. Our core set of capabilities can be adapted to meet new demands in other industries," said Gray. "For example, we've worked for decades in aerospace, and the new automotive functional safety regulations are very similar. We can help automotive clients get up to speed and get the reliable test solutions they need quickly – and by working together with WTI, we help those clients more strategically spend their test budgets."
Leading Customers into the Future of Test
It's clear that where both companies are individually engaged, they can add more – clients get electromechanical test cell applications, including hydraulic fluid power and dynamometer/rotating equipment applications, with a focus on hardware-in-the-loop (HIL) simulations from WTI and electronics and software test solutions from CertTech, leveraging common infrastructure along the way.
Both companies' strengths work together as they look to grow with automotive companies developing automated driver-assistance systems (ADAS) systems and autonomous vehicles.
"Standards and regulations are core to the CertTech business and imperative for our customers," said Gray. "WTI is great with HIL simulations for automotive, and now CertTech teams can come in and add ISO 26262 functional safety testing, which affects many of the electric systems in electric and autonomous vehicles moving forward."
Other standards where CertTech adds expertise are RTCA DO-178C for embedded airborne software and DO-254 for airborne electronic hardware. Standards like these require thorough, rigorous testing and CertTech's teams are adept with the related software requirements, verification, configuration management, and quality assurance requirements of these standards. Standards in other industries, like and IEC 62304 for software processes in medical devices, mimic aspects of those in aerospace, and CertTech is able to ramp quickly to serve standards in other industries.
Speaking of on-demand capabilities, an area the company is exploring is offering outsourced, test-as-a-service capabilities.
With its start in automotive test in the heart of Michigan, WTI is well-versed in automotive test-as-a-service offerings for engine test, but they're looking to take this concept to hydraulics and other tests for aerospace.
"Test-as-a-service for complex industries creating innovative products will require upfront R&D expense on our end but could vastly improve development cycles and save capital costs for our customers," said Eurich. "We're exploring the possibility of offering more accessible test solutions for highly specialized, premier components and systems."
With WTI's experience in hardware and CertTech's expertise in certifications, the possibility of shifting how companies test systems to an on-demand approach with qualification-ready systems becomes a real possibility.
Another challenge customers face is increasing concern for cybersecurity – not just for products but also for test systems. The new company will invest in training and expanding their skills to double down on ensuring reliable and safe test systems.
"Cybersecurity is one more layer where we're investing for our clients," said Gray. "In an increasingly connected world, there are massive safety concerns in mission-critical aerospace and defense applications that demand software and electronics systems with rigorous cybersecurity protection."
Working Strategically with Key Instrumentation Companies
Though both companies are impartial to vendors and able to integrate any instrument to create the best solution, they both maintain a strong relationship with leading test and measurement company, National Instruments.
"Over the last few years, NI has increased their presence as a solutions provider to the same industries where we work," said Eurich. "They want to leverage partners who are both experts in these industries and can scale to meet the demands of large OEM and supporting companies. Together, we're positioned to be a significant, collaborative partner to NI. We're larger, more capable, and have deep expertise with NI software and hardware."
"Both CertTech and WTI have longstanding histories of delivering successful systems to customers with NI, and we brought teams from both companies together to help solve challenges for customers prior to the acquisition," said John Hottenroth, Senior Sales Manager at NI. "They're a great fit together, able to help companies be more efficient through the entire product lifecycle from requirements planning and test strategy to MIL, SIL, and HIL, to regulatory compliance and maintenance and support. The collaboration CertTech and WTI can provide is a significant enabler for leading aerospace and defense, automotive, and medical device companies to improve their test processes."
Combined, CertTech and WTI have more than 70 engineers – able to offer clients a massive test engineering department, basically on-demand.
Impacts on Staffing
Both companies already have clients and offices around the country.
"No one's going anywhere – we need all of our staff," said Eurich. "Accomplishing what we're setting out to do for the aerospace and defense, automotive, and medical industries will require all the engineers we have together, and more. This isn't the situation where one company acquires another, and half the people are gone. We're planning to increase our staff to meet the demand that's building from our customers. We'll need more design engineers, and technicians, too."
WTI has been long-lauded in their headquarters of Saginaw, MI, where they're an integral part of the community as an employer and community supporter, developing technology for Michigan Tech University and supporting Saginaw Valley State University with scholarship funds for the engineering department. They'll continue to grow their organization, which has additional offices Clarkston, MI, and Raleigh, NC. CertTech is an active member of the KC Tech Council, integral to the Kansas tech community, and will likewise grow their company, which has offices in Lenexa, Kansas; Albuquerque, NM; Boulder, CO; Seattle, WA; and Washington, D.C.
Long-Term Vision
"A year from now, we want to serve customers as a completely integrated business," said Gray. "We want our customers to be experiencing all of the cost and time savings and technology benefits that this acquisition is creating."
In 10 years, they'd like to "double in size a few times over". They have capital and resources available and plan to acquire talent or technology as needed to be a premier test solution partner for the aerospace and defense, automotive, and medical device companies that will carry our country into the future.