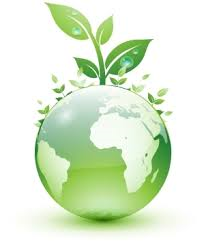 Many of our customers are now requiring their new servo-hydraulic test benches to be not only energy efficient, but to be designed to include the most environmentally friendly components and processes available. With this ever-increasing trend for "greener approaches", Wineman has developed several solutions for adapting these new design practices into existing fluid power based test stand assemblies. Stand retrofits can combine several technologies, including energy conversion packages to more environmentally friendly system maintenance practices. In addition, WTI energy audits can provide a shopping list of possible upgrades, an upgrade cost analysis, and return-on-investment (ROI) studies to determine if your systems can "Go Green."
Energy Conversions
Wasted energy is the greatest factor of inefficiencies that can be corrected in older servo-based test systems. The following are just a few approaches to improve the input power to actual work (used) power ratio on a test stand:
Heat Transfer Systems – Often the heat that's removed from a system's cooling system can be transferred to another system and used for pre-heating.
Rapid Heat-up/Cool-down systems – Heating or cooling the system only during operational periods, or heating/cooling the temperature control of subsystem circuits only, can provide a tremendous cost savings.
Accumulation/Energy Storage Systems – The storage of system energy during idle periods can also add efficiency. By lowering the peak energy consumption, and then releasing that energy during peak periods, the overall system's efficiently can be increased dramatically.
Motor Resizing – Often drive motors are oversized and can be substantially reduced by using RMS Sizing calculations if based upon your systems actual operational cycle requirements.
Energy Conversation Controls – The systematic approach to controlling input water, system operational pressures, and pump/motor control can be an energy saver. The use of multiple pump staging, variable volume vs fixed volume pumps, and the addition of energy conversation timers can have a very immediate increase in ROI with today's energy costs.
Green Maintenance Solutions
Green energy solutions can also be applied to the maintenance aspect of servo-based test systems. This includes:
Limiting Leaks – In a recently released article, Eaton Corporation reported that "At least 700 million gallons of petroleum-based fluids enter the environment annually, more than half through illegal disposal channels, and somewhere between 70 and 80% of all hydraulic fluids leave the system through leaks, line ruptures, and spills." Developing a regular maintenance schedule that includes the identification and repair of leaks,can greatly reduce the amount of fluid used on a yearly basis.
Green Filtration – Existing disposable filter elements can be replaced with cleanable or recyclable media. In addition, there are several self-cleaning filters available which don't require a regular media replacement.
Fluids – Test fluid can be reused through containment, capturing, separation, filtration, and testing programs. Limiting the replenishment of fluids, and reducing the amount of fluid being disposed, directly impacts your system's environmental footprint. In addition, there are several new bio-fluids that perform well in hydraulic systems and are environmentally friendly.
System Audits
Wineman Technology offers Green System Audits to determine how your system can be more environmentally friendly. Our engineers can determine what areas can be upgraded, the cost of upgrades, and the ROI for the upgrades. A typical audit would include:
A pre-system review that identifies the specific issues associated with your system. This also provides an outline of what changes could be accomplished, the approximate upgrade costs, the associated audit requirements, and ROI estimates.
An onsite audit with an engineer who collects and compiles detailed system information to complete the detailed audit. Once the data is captured, the auditor will evaluate the system's current operation, analyze the data, and provide a written report. This documentation includes final recommendations, upgrade configurations, and the financial justifications to meet your ROI and requirements.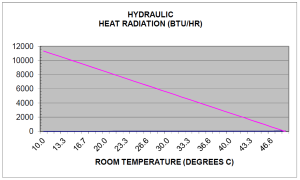 Figure 1 – Typical results from a System Heat Radiation vs HPU Room Temperature for HVAC Sizing Study.
Available onsite support from a WTI project engineer to implement changes or simply work with your team to see the system improvements through conclusion. Optional validation can also be provided to document your ROI status and achievement of operational goals over time.
The Green Energy upgrade of your existing systems not only makes sense from an environmental impact perspective, but also from a financial basis. System upgrades can result in reduced operating costs, improved productivity and reliability, better test results, reduced capital spending, and a reduced environmental footprint. Wineman Technology has years of experience in the upgrading and automation of not only existing test stands, but entire test cells. We also offer the market-leading expertise required for the addition of data acquisition and control systems to your systems. Systems can be totally upgraded, onsite or offsite, or be engineered to be upgraded through "add-on" modules or phases. In this way, the cost for a total system upgrade can be spread out over several budget cycles. Please contact us to schedule your Go Green audit today.