Guest post by Nate Holmes, Solutions Manager, Physical Test and Powertrain Systems at National Instruments
Hardware-in-the-loop (HIL) and physical test are often treated as entirely separate entities in the product development process. On the surface this is natural. HIL is all about simulating the physical components and sensors in the system to test the embedded controller and software. Physical test is all about transducer-based measurements (such as temperature, pressure, stress/strain, sound, acceleration, displacement, and so on) to test physical characteristics of mechanical components. Unsurprisingly, they require very different competencies:
Competencies needed to build an HIL system:

Experience in modeling and simulation
Fault insertion and signal conditions
Real-time system architectures

Competencies needed to build a physical test system:

Experience in mechanical design and fixturing
Actuation and motion control / position / velocity / acceleration feedback and controls
Transducer-based data acquisition (vibration, stress/strain, temperature, etc…)
But, at some point in the product development process, integration happens. Components that were previously the focus of "pure HIL" testing and "pure physical" testing must be tested together. now the testing is not "pure" anything, It requires an interdisciplinary skill set to get right.
Also, in systems integration testing, all sorts of interesting things start to happen. Effects that were not anticipated manifest. Behaviors show up that disagree with the design models. Designs are changed and improved, and the process is iteratively repeated until satisfactory results are obtained. The ability to quickly and effectively navigate this iterative test process is key.
The value of having an integrator who has BOTH HIL and physical test competencies becomes very apparent at the system test level. this combination of skills is becoming even more important as systems become more complex and the pace of design change increases with technological innovation.
For best-in-class organizations, test is a competitive advantage. The ability to rapidly iterate on designs and effectively traverse the design V allows organizations that are racing to bring products to market to iterate faster, make better design decisions, and lower the total cost of test. Having both HIL and physical test competency means more than just building good system level test rigs. It provides the ability to bring test earlier in the design cycle and to decouple dependencies on other teams by being able to switch out simulated and real components in a flexible test architecture. Bringing test earlier in the design cycle can be truly an order of magnitude cheaper, and you can get much better test coverage for conditions that are difficult or impossible to reliably reproduce in later test stages or in field testing. We've seen over and over again that investment in the technology and expertise to move test from the field to the lab and from the lab to the bench pays off big.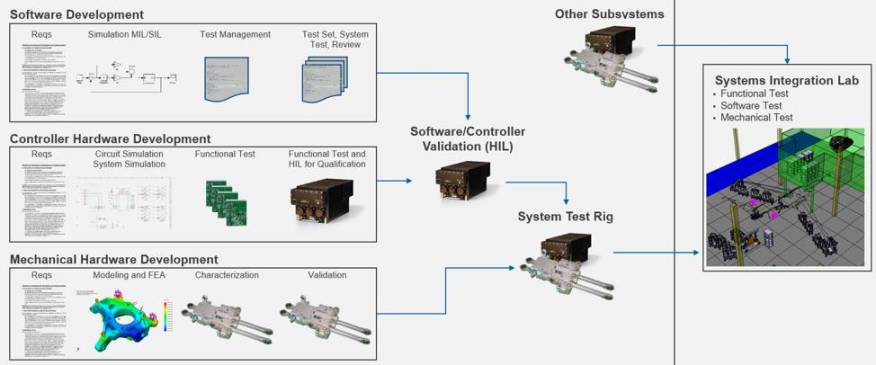 Systems Engineering Design Methodology; the "Design V"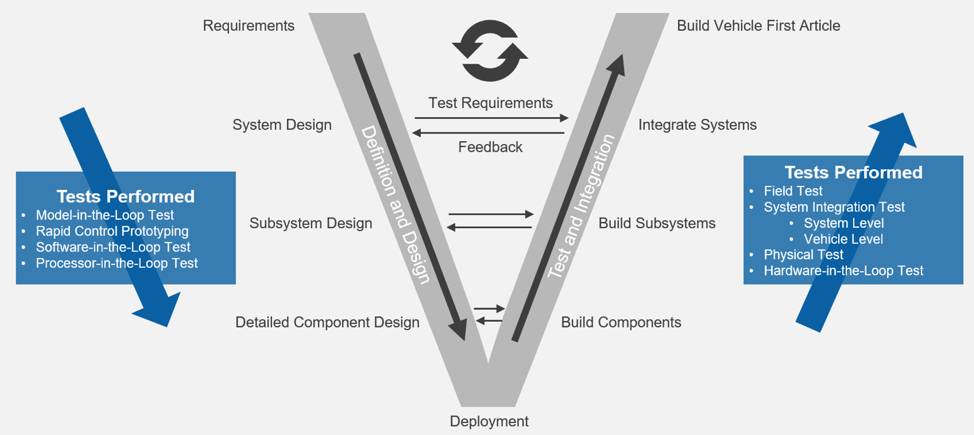 "Design V" Representing the System Engineering Design Methodology
Wineman Technology has offered its customers complex electromechanical test systems for over 27 years. With emphasis on accurately simulating the real-world conditions required to test their customers' parts, they have been involved with projects that combine HIL and mechanical test for more than a decade.
Some examples of this include:
In addition to being recognized as a HIL Specialty Partner in 2017, Wineman was recognized as the America's Alliance Partner of the year in May 2018 and featured in an NIWeek keynote for their collaboration with NI to define the HIL reference design.
Contact Wineman today to discover how you can leverage their HIL solutions expertise.