When the word "quality" comes up in highly regulated industries like aerospace, automotive, or medical device manufacturing, a lot comes with it into the conversation. Balancing quality assurance demands in order to maintain compliance with regulatory standards is just one part of that challenge. Another part of this is holding to those standards while also keeping product longevity in mind. After all, these are industries where once something is put into service, it's expected to be operational for years or even decades to come. Pushing and pulling on both of these criteria are the ubiquitous demands to do more with less - and to do it faster.
The medical device industry in particular is experiencing significant growth, and things will not be slowing down any time soon. In fact, research firm Markets and Markets estimates medical device testing will reach $12.26 billion by 2023.
In this post, we'll take a look at what medical device manufacturers have in common with other highly regulated industries and explore some strategies for balancing regulatory demands with improving life cycle and durability.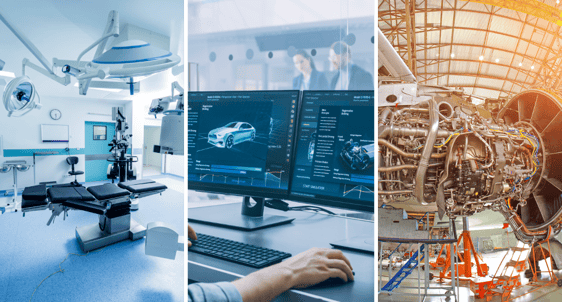 Common Ground: Quality Expectations for Medical, Automotive, and Aerospace Testing
Quality and performance testing of applications involving civilian or military aircraft leaves little margin for error. The consequences of a bad structural fatigue test on a commercial airliner would be expensive to correct at best, and catastrophic at worse. Meanwhile, automotive systems designers are being challenged like never before with an ever-increasingly complicated set of demands that blur the lines of compliance and quality. Regulators are ramping up pressure to meet environmental standards while consumers are demanding for cars that bring the convenience of connectivity without any of the complexity. To meet these sometimes-conflicting requirements, manufacturers have to innovate in order to pursue cutting-edge functionality without sacrificing quality. Given the mission-critical nature of these applications, and their inherent complexity, the demand for quality and safety can't really be separated.
Similarly, medical devices are subject to varying levels of regulatory controls. Class I devices, those with the lowest potential for harm to the patient and therefore the lightest controls, make up about half of all of those approved by the FDA. Separate from the regulatory requirements, there are business factors to consider that make effective testing integral to any growth strategies, including:
As medical device manufacturers grow, they need systems in place that can scale with demand but also be flexible enough to keep pace with design requirements and external regulations.
The drive to get new and innovative products to market as fast as possible is often in direct opposition to increasing the quality of those products. Companies need to be able to innovate and improve health outcomes without sacrificing durability.
For some medical device manufacturers, making large-scale investments in internal testing departments is cost prohibitive. Plus, it's a distraction from their primary expertise.
A myopic focus on certification at the expense of longevity could lead to costly product recalls, which erodes brand trust. With better, longer lasting devices, manufacturers can better serve their customers by taking a page from safety-adjacent industries.
For all of these reasons, test systems for medical technology need to be as innovative as the products they are testing. The path forward doesn't have to be daunting.
The Value of Durability and Life Cycle Testing
Taking a standardized approach to testing is probably one of the easiest ways to ensure a successful validation system. At Genuen, we have extensive experience serving not only medical device manufacturers, but other highly regulated industries including automotive, railroad, aerospace, and defense. In our 30-year history serving these markets we have implemented proven test technologies that medical device companies can leverage to increase the quality of their products without sacrificing time-to-market or adherence to regulation.
Get in the Loop with MIL, SIL, and HIL
Running real-world tests on any system is cost prohibitive, regardless of complexity. Taking a model-based approach to your design by creating simulations of real-world environments produces the data you need to meet regulation requirements and meet quality control standards. Hardware-in-the-loop (HIL), software-in-the-loop (SIL) and model-in-the-loop (MIL) solutions make it possible to simulate real situations so you can run scenarios that account for performance, quality, and functionality.
A Modular Approach
Another kindred aspect of medical device manufactures with other industries is that it can also benefit from leveraging reusable, pre-certified architectures to maximize testing resources. A modular testing strategy provides enormous flexibility because systems can be highly customized to specific requirements, including performance, quality, and regulatory standards. This approach also means hardware can be reused, which makes it possible for testing to happen sooner in the development process when fixing problems is much easier.
The Business Impact of Testing Efficiency
Defects are always cheaper and easier to correct when caught in the early stages of development but depending on the device under test, the savings could be astronomical. You can imagine how this would be the case in aerospace and automotive applications, but the truth is nobody has extra time and money to fix post-release errors.
Testing should always lead to informed decisions, and the more effective your test system is the quicker you'll arrive at the desired result. Test systems have to be flexible enough to adapt, not only to real-time demands of the application at hand, but also the shifting requirements of the industry.
Learn more about life cycle and durability testing for medical devices in our ebook.