Genuen knows that the quality of a product is rooted in the quality of the processes used to create them. That's why Genuen has undergone the rigorous process to have all company locations (including the Fairfield, Clarkston, Saginaw, Lenexa, and Albuquerque offices) achieve ISO 9001:2015 certifications. All employees have undergone extensive training to follow the same guidelines from engineering design to fabrication, documentation, and maintenance.
Today, many component and system manufacturers across industries are facing stricter safety and quality requirements from their end customers; many of which include ensuring that relevant downstream subcontractors (such as Genuen) also verifiably meet requirements.
In this blog post, we'll be reviewing Genuen's quality and assurance processes, how Genuen's ISO 9001 certification helps you to ensure your own quality, and how our certification can help you to achieve regulatory compliance for your products.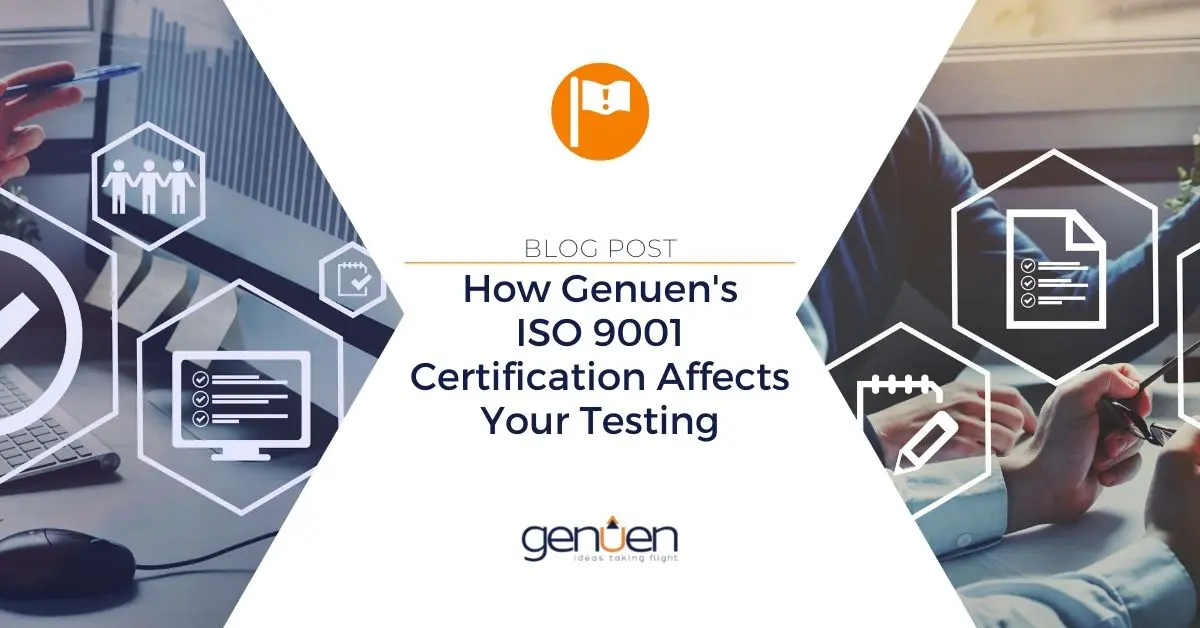 While some manufacturers have their own safety and quality requirements, many of these requirements are dictated by regulatory compliance. For example, a manufacturer may be contractually obligated by their end customer to meet certain requirements for IT security, quality management, or other corporate governance concerns. This is important for sensitive data relevant to government contracts where IT security is becoming a larger concern—especially so for products that fall under International Traffic in Arms Regulations (ITAR).
Products used in safety and mission-critical applications are most impacted by regulatory requirements. As electric vehicles (EV) have increased in popularity, the automotive industry has established new requirements for manufacturers to ensure the quality and safety of electrical systems and their associated software systems (such as ISO 26262). Many of these requirements also apply to traditional combustion engine vehicles. Within the aerospace industry, which has well-established regulatory requirements for safety and quality, many manufacturers must meet the comprehensive certification requirements (such as DO-178B/C or DO-254).
Working with an ISO 9001-certified subcontractor such as Genuen provides assurances that your partner can meet flow down requirements for Quality and IT Security. Our certified quality processes can assist you in several ways as requirements continue to expand:
Making outsourcing process easier

Expanding your capability

Checking off your flow-down requirements boxes
Developing a companywide commitment to quality requires adopting a mindset to approaching projects that ensures quality throughout: Say it. Do It. Show it.
The Genuen Approach to Quality
We have spent hours training and instilling our team with the knowledge of how to continuously strive to clearly define, follow, review, and improve our processes. This means that team members take the following three steps for each project.
Say It: Define What You Are Going to Do.
Our quality management system (QMS) begins with our quality manual: Genuen Quality Procedure (GQP)-001. GQP-001 defines our approach to quality, our quality policy (including key aspects of ISO 9001 and how we address these requirements), and how we address non-conformance to our policy. Our QMS also includes Genuen Quality Templates (GQT) to ensure consistent reporting and planning artifacts, Genuen Quality Workflows (GQW) to ensure processes are followed correctly, and Genuen Quality Forms (GQF) to ensure accurate documentation of processes and procedures. At the beginning of every project, we sit down and review GQP-001 in relation to our customer's requirements to determine which GQTs, GQWs, and GQFs are relevant to the project.
Do It: Follow the Processes in the Way that You Said You Were Going to Do It.
Each step of our process of competent design, development, and delivery of complex test systems and solutions has an applicable GQW to help us ensure that we are following our QMS. Preparing for the necessary audit and achieving ISO 9001 certification was only the first step in our commitment to quality. Genuen is also committed to continuous improvement of our QMS and our team is empowered to refine quality processes to mitigate known risks.
Show It: Provide Records to Verify that You Did What You Said You Were Going to Do.
Each GQW includes instructions to complete GQFs throughout the workflow to completely and accurately document our project processes. Examples of GQFs include meeting report forms, design review approval records, software peer review records, and inspection forms. Completed GQFs are maintained on secure file servers indefinitely for future reference and may be shared with the customer and auditors for verification purposes.
Benefits of Having an ISO 9001 Certified Test Partner
A certified QMS provides you with a specific level of assurance in the quality of the solution. However, while having ISO 9001 certification certainly benefits you by ensuring that you are receiving a quality solution from Genuen, there are other ways in which you benefit from having a certified test partner.
Make Outsourcing Easier
For component manufacturers who are required to meet end-customer regulatory requirements, there is often a requirement that subcontractors meet the same requirements. As we've explored in some of our white papers, regulatory authorities will strictly define requirements that products must meet, but rarely delineate how these requirements are to be met. Quality process certifications, such as ISO 9001, go a long way in helping to prove compliance to regulatory requirements. Working with a partner who is ISO 9001 certified gives you greater confidence that your subcontractor is compliant with your requirements.
Expand Your Capability
As an ISO certified supplier, we can help you scale the size of your team through our certified disciplines. Whether we work alongside your team or take on a design and development of a complete system, we can help you meet your delivery dates. Additionally, many contracts require that flow down requirements (e.g., ISO Certification, ITAR, counterfeit materials, human trafficking prevention, CUI protection) are also met by subcontractors. Many of these flow down requirements are inherently met through the ISO 9001 certification process.
Check Off Boxes
Put simply, working with an ISO 9001 certified test partner helps you to check off the boxes in your list of requirements. Whether your product is subject to ISO 26262, DO-178B/C, or another regulatory requirement, an ISO 9001 certified partner makes it easy to ensure that your product is compliant.
Genuen's Commitment to Quality
Genuen is committed to developing projects using Quality Assurance (QA) processes that are adaptable to project needs and deliver high quality results that meet customer and regulatory requirements, as displayed by our ISO 9001 certification. Genuen can verifiably meet your quality assurance requirements, including for mission-critical applications like those in the automotive, aerospace, defense, and medical industries.
Our quality-certified processes make outsourcing activities easier, expand your capabilities, and enable checking off requirements boxes. You can trust we will define, follow, and verify our project processes and activation to help you ensure regulatory compliance, accelerate time-to-market, and achieve reliable, and cost-effective product development.
Contact Genuen to discover how we can support your next quality-assured project. To view our ISO certification badge, visit our Partners page. If you have any further questions regarding Genuen's Quality Management System (QMS) or ISO 9001 certification, please contact us.