After not being able to attend the Automotive Testing Expo (ATE) in 2020 amid the global pandemic, the Genuen team was excited to return to Novi, MI for three days of face-to-face time with automotive customers and vendors. While there were fewer attendees than in previous years, we found that in-person interactions led to more engaged conversations about testing, regulatory compliance, and the automotive industry.
In case you missed it, here were three trends that we noticed at ATE 2021.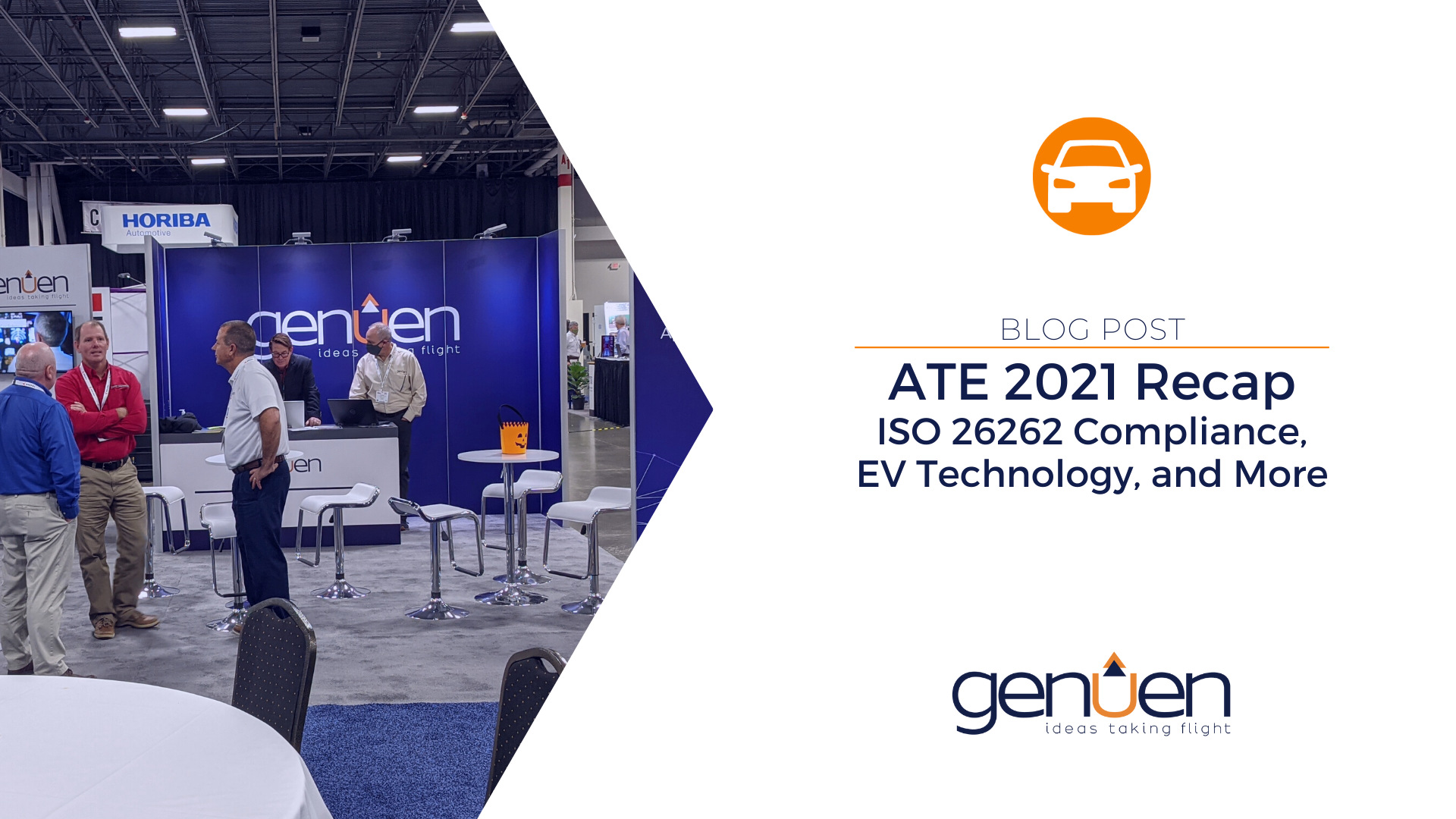 Electric Vehicle Technology
With many countries around the world moving away from internal combustion engines toward electric-driven vehicles, it was no surprise to see several vendors displaying new electric-focused technologies and attendees looking to validate their battery systems. This wasn't something new to ATE, but as lawmakers in more countries globally are setting ambitious goals of phasing out fossil-fuel vehicle restrictions (Norway being one of the first, by 2025), these future green technologies are becoming a reality.
ISO 26262 Compliance
Throughout our conversations at ATE we noticed more Tier 1 suppliers are looking to get a head-start on ISO 26262 compliance. While it has yet to be mandated, many automotive OEMs are requesting or even requiring their Tier 1 suppliers to show functional safety compliance now. Looking to get started on ISO 26262 compliance? Our white paper, "Compliant Testing for Automotive Functional Safety," shows you how strategic testing and thorough documentation can help you can comply with key aspects of ISO 26262.
Advanced Driver-Assistance Systems
Advanced Driver-Assistance Systems (ADAS) is one of the key technologies that makes autonomous vehicles possible. With anything from cameras to sensors, these automotive chassis and body control electronics require iterative RF testing. Hardware-in-the-loop (HIL) testing can help you verify and fine-tune proper operation early in the product development cycle, before physical test is possible.
Looking for something else? Learn about Genuen's automotive testing solutions here or contact our team to discuss custom testing solutions.